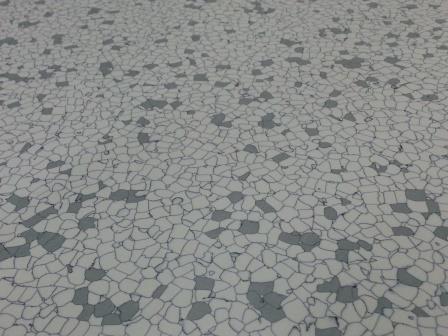 If you're an end user, architect or interior designer that has ever struggled to integrate access floor cable management into a building, we have the solution for you!
For too long, raised access floors have been thought of as a necessary evil, creating a useful under-floor space at the expense of drab, industrial-looking finishes. Covering up the raised floor with carpet wasn't much of an improvement, as carpet is being replaced with hard finishes. Not to mention carpet is typically a "dirtier" environment than a hard finish that harbors less dirt and germs.
Built in Performance
Our custom access floor panels, regardless of finish, have the best strength ratings in the industry. From 1,000 pounds per panel to 2,500 pounds per panel, we believe in true weight ratings that honestly reflect what each panel can support. Never before has such a wide variety of floor finishes been available on such a strong access floor. You will not have to make the tradeoff between form and function. Our panel finishes are resistant to scratching and gouging, and do not reduce the load capabilities of the base panels.
A World of Possibilities
From terrazzo to tile, bamboo to wood, Netfloor USA offers the widest offering of access floor finishes. Whether they are embedded into the raised floor panel itself, or designed as a top finish, all of our finishes are designed to work well with access floor, to withstand the forces unique to a raised floor system, and, most importantly, to create an inviting environment that makes your customers say "WOW!" and your employees feel right at home.
A Variety of Heights
In years past, raised floors were limited to 12" heights or more, taking up precious floor to ceiling height, and making office spaces feel like industrial data halls. If your needs were simple cable management without any under-floor airflow, you still had to use a standard raised floor with the standard gray finish. No longer.
Sustainable Products
Many of our wood coverings are made from recycled materials, and many of them come from sustainable forest wood stocks, sourced in the United States. Combined with our use of recycled materials for our access flooring, Netfloor USA is quite possibly the "greenest" raised flooring manufacturer in the world!
Netfloor USA has not only the widest range of floor coverings; we also manufacture the widest range of access floor heights, from 1.5" to over 6 feet tall. Using a low profile access floor like Netfloor USA ECO or CamassCrete gets rid of the industrial look, creating a warm, useful environment that is cable and tech-friendly.
Whatever your needs, be sure to check out the services we offer. We are proud to manufacturer the best access floor systems in the world, and we offer world-class design services to help your deliver your project on time, on budget, and beating expectations.