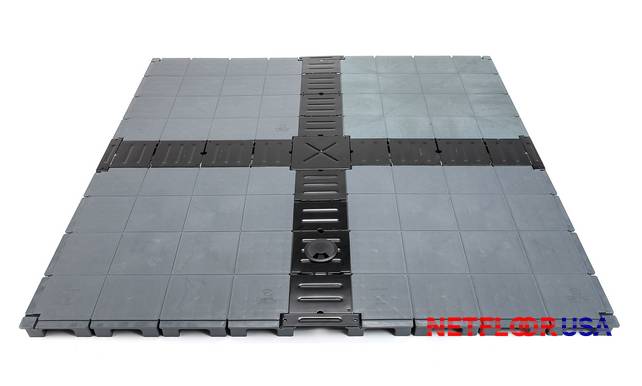 Low Profile Cable Management Floors - Not Just For Data Centers
The majority of the population probably doesn't know what a raised access is. And that's fine; why would they?
For decades, access floors have been used in a few, very select industries (like data centers and electrical rooms). Unless you are in the IT industry and have worked in, or toured, a data center, chances are that you've never seen a raised floor.
But that doesn't mean you've never walked on one without knowing it.
What are Raised Floors?
Just like they sound, a raised floor is way to elevate the floor that you walk on - or put equipment on - above the subfloor.
They're used in data centers so much because of many advantages they offer:
Provides a space or cavity in which to run wires and cables
Provides space for under-floor cooling air (to cool the servers)
Creates plenty of space to run piping, like chilled water piping (again, used to cool the servers)
Creates a buffer zone in case of a water leak (although this is a secondary benefit)
So, raised floors are pretty useful, but historically, only in these specific industries.
But a few key events changed that, and the prevalence of access floors has begun to increase.
Access Floor Panel Cross Section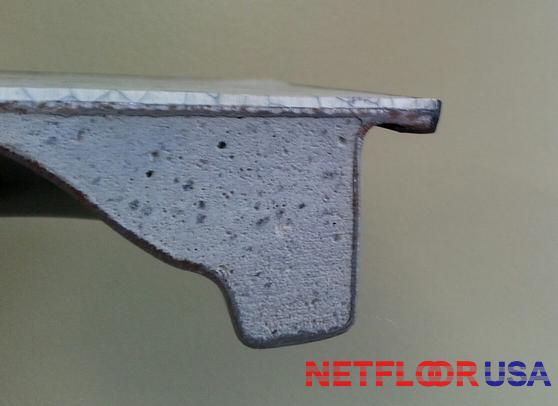 Oh Baby, Baby, It's a Wired World
To borrow from Cat Stevens' song, we live in the information age where data is being produced, and consumed, at an astonishing rate.
There are many users of wireless technology:
Mobile Phones
Wifi
Hotspots
Despite the increase of wireless data transmission technology, wired data transmission is on the rise, too.
Walk into your local data center, and nearly all of the data travels over wires or cables, like fiber and Cat6 type cables.
Physical wires, as opposed to wireless technology, provides a layer of physical security that many organizations demand. Not to mention, wired data transmission rates are faster than wireless. (For the most part. Some specialized wireless transmission methods like highly directional microwave can reach incredible transmission speeds, but are pretty specialized).
The need to effectively manage and route cables is becoming more important as society's thirst for data increases.
Netfloor USA Cable Management Floor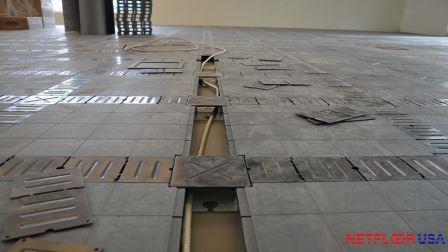 Enter Cable Management Floor
The old type of access floor was for specific industries, and it looked like it. The most common color for the floor panels is: gray.
It's sort of like what Henry Ford said about car colors, you know, customers could have any color they wanted as long as it was black.
If you manage an office, a library, a 911 Emergency Ops Center, or any number of building types, there's a good chance you don't want your floor to be gray.
Gray is boring, dull and screams "Look at me, I'm boring, and so is this company!"
No, the high tech buildings of the 21st century need to be built with robust infrastructure AND with a keen eye to building aesthetics.
Workers in an office need to be productive AND happy!

Architects and interior designers have the training to make an office productive and inviting to the workers. They work on the design, the furniture, the carpet, lighting and more to make an efficient and welcoming workspace.
One of the challenges these professionals face is fitting all of the data infrastructure into a human-occupied space.
In a data center, humans are an afterthought. They only show up when something goes wrong or new equipment needs to be added. Thus, data centers are big boxes, with no creature comforts. It's all about the data.
With pretty much every other industry, it's about the people. The workers who use the data. The people in marketing, accounting, video production, applications engineers and more. They have huge data requirements, but they are people after all, and they need to be comfortable.
So, a big, heavy gray raised floor isn't going to cut it.
This is why cable management floors are becoming so commonplace in nearly every industry and building type:
Take up less space (1.5" tall up to 6" tall)
Have built in cable raceways and electrical boxes (makes it easy to layout workstations and cubicles)
Accept many different types of floor finishes (Finally, we got rid of the gray finish!)
Are easy to install, maintain and changeout if needed.
Industrial Strength for Commercial Buildings
Low profile, cable management floors are often made out of different materials than regular access floors are.
Regular access floors are steel+concrete core panels probably 80%-90% of the time.
With low profile floors, there are more options when choosing the type of material used in the floor panel.
Some common materials are high-strength polypropylene, all-metal, and, of course, the tried-and-true steel+concrete core.
Some raised floor users are used to the standard type of panel, and that's fine. If lightweight and ease of installation and use are important, consider using a panel made from recycled, high-strength polypropylene. In many cases, these types of panels are incredibly strong, despite weighing a fraction of what regular panels do.
High Strength Polypropylene Cable Management Floor Panel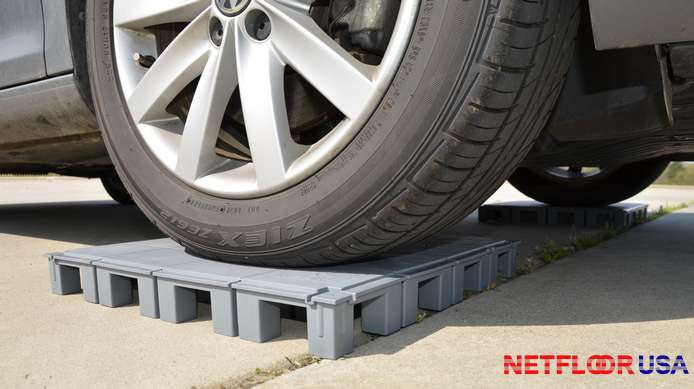 Access Floors Are So Beneath You
Access floors have so many benefits, so it's no surprise we are seeing a lot of architects and interior designers incorporating them into their new designs (and renovation projects).
End users are no longer tied to the drab, institutional access floors of days gone by.
Easily installed, lightweight and easy to handle, cable management floors form the infrastructure foundation on which you can build not just an office, but a successful business.
At a price point that is very comparable to other methods of cable management, cable management floors are a very good candidate for nearly any application!